Due to Covid the HH was postponed from the usual April date to beginning of September.  The course conditions were expected to be very different, as was the weather.  Unfortunately Royal St George's GC was not available for the 1st round of the competition so Prince's  stepped in.
Taunton were drawn against Bishop's Stortford in the 1st round and our expectations were we had a good chance of winning, however, our eventual win was not as expected.  Dave Higginson and Pete Whalley won their match as did Gary Hector and Phil Stickler, Richard Willacy and Andy Ford lost their match.  On the 13th hole Matthew Pyke, unfortunately, hit our opponents (not intentionally!) who had to be taken to hospital for a check-up and that match was declared halved (although at the time our pair were 3up with five holes to play).  So the score now stood at 2.5 – 1.5 and it was down to Iain Westwater and Ed Bradnock who were 1 up going down the 18th, however, play was stopped as the light had faded so much it was impossible to continue.  In the end it was decided to continue the final game in the morning and if Bishop's Stortford won then the Captains could choose one of the existing pairings to battle out a sudden death.  In the end, later that evening, the Captain of Bishop's Stortford conceded the match given that even if they won overall they were not able to produce a team for the second round.  Well…….given how long it's been since Taunton succeeded in the first round Ramsgate certainly knew about it that evening!!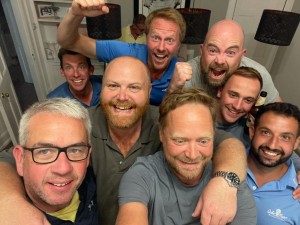 Unfortunately Taunton faced a very strong Bradfield in the next round and lost 4-1.
Team: Richard Willacy (C), Iain Westwater, Gary Hector, Phil Stickler, Greg Whalley, Pete Whalley, Andy Ford, Ed Bradnock, Matthew Pyke, Mark Jenkins, Dave Higginson