Another great performance by the team who lost in the second round of the main competition to the eventual winners, the RAF.   Welcome to Andy Ford and a reappearance of Jan Becker.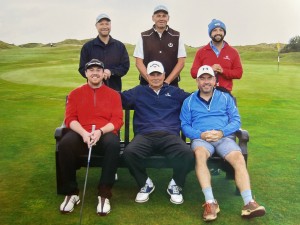 Back Row:  Greg Whalley, Tim Blood, Andy Ford
Front Row: Jan Becker, Richard Willacy, Gary Hector
Main Competition
First round versus old Blundellians, Won 2-1
Second round versus RAF, Lost 3-0
I'll leave out the stableford score on the Sunday but thanks to Pete Whalley for taking Gary's place who was suffering back problems.  Needless to say the Brother Whalley's took the money!!
Well done team.