What a great performance by the team!!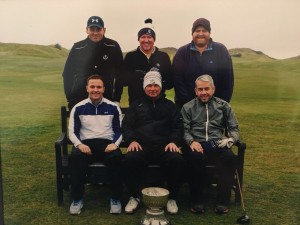 Back Row: Tim Blood, Iain Westwater, Pete Whalley
Front Row: Phil Stickler, Richard Willacy, Gary Hector
Main Competition:
First round drawn against local side Leatherjackets – won 2-1
Second round drawn against Sherborne – won 2-1
(Sherborne have won this competition 3 out of the last 4 years!)
Semi Finals drawn against Royal Air Force – Lost 2-1
Close though in the semi-final:
GH/PS Lost 2-1
RW/IW Won 1 up
PW/TB Lost 1 down
We haven't achieved this result in many years so well done boys.    Beware Cranleigh at the Halford Hewitt!!